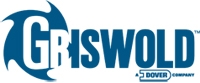 End Suction Centrifugal Pumps
Griswold's E, F & G centrifugal pumps are designed for versatility! With capacities up to 3000 GPM, heads to 310 ft., a broad range of sizes and configuration options and extensive performance features, the E,F&G Series proves ideal for most water pumping applications.
E, F & Gs are equipped with your choice of either close-coupled NEMA electric motors or frame mounted with coupling to electric motors, engines, steam turbines or even belt-driven options. The E, F & G's 360º mounting capabilities greatly extend installation options. Close-coupled configurations can be mounted vertically when space is at a premium. The E, F & G's back pull-out design permits removal of the pump assembly for easy maintenance without disturbing pipe connections. All E, F & G models are flanged in accordance with ANSI B 16.1 for 125 PSI applications.
Manufacturer's Website